Case Study - How Do You Classify Emails
The short answer is to the question of how do you classify emails is to use a tool which integrates in your email application and which is easy and intuitive to your users and administrators.
If you use Microsoft Outlook for your email application then you should test and use ClassifyIt - it supports and enforces your classification policy.
Prerequisite: You should have a Classification Policy for your information. If you don't have a Classification Policy, start small with classifications like: Internal and External, or even better with a proven classification schema like TLP (Traffic Light Protocol). If you look for help, please contact us under: This email address is being protected from spambots. You need JavaScript enabled to view it.
Classify an Outlook Email with ClassifyIt
The below example is based on the TLP classification policy.
When a user opens an email, the email receives automatically a default classification which is directly visible to the user. In this example the TLP classification WHITE gets applied.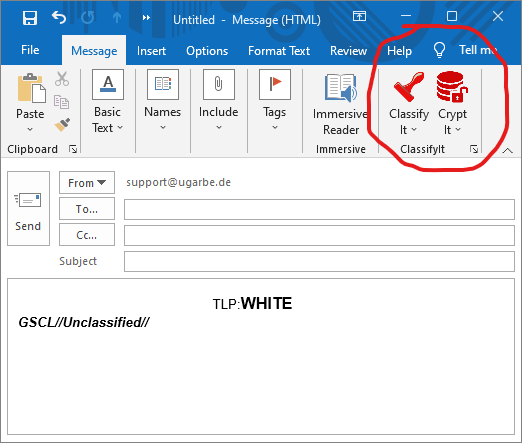 Beside the classification (WHITE in this example) ClassifyIt also adds a standardised label, which is useful when exachanging classified emails with external bodies to your company/organisation. This is not mandatory and can be disabled or in any other format.
If the default classification is not correct for the content and attachments of the email, the user can easily change the classification. The most used feature in ClassifyIt is the Quick Select menu to apply any of the allowed classification of your organisation. In TLP these are: WHITE, GREEN, AMBER or RED.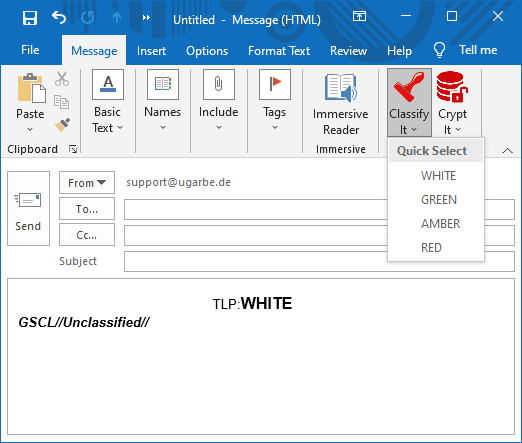 Questions - please feel free to contact us: This email address is being protected from spambots. You need JavaScript enabled to view it.